CHIEF INSTRUCTOR Jeet Kune Do India
Training under The IRON DRAGON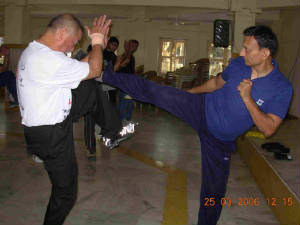 Our Teacher & Inspiration
The IRON DRAGON of JKD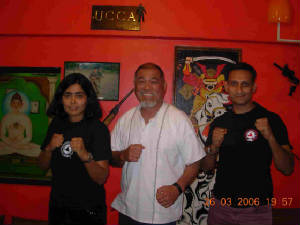 As of now, under request of the JKD India fraternity Prof. Dr. Rao & Dr. Seema Rao have taken charge as Hon. Director & Hon. Deputy Director respectively. They are students of the Iron Dragon, Richard Bustillo, the legendary Lees seniormost student, who first started teaching JKD after Lees death, as Director of Filipino Kali Academy, the Worlds first Academy of JKD.
Their credentials are outlined below:
TRAINING WITH THE IRON DRAGON, THEIR TEACHER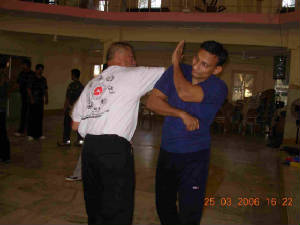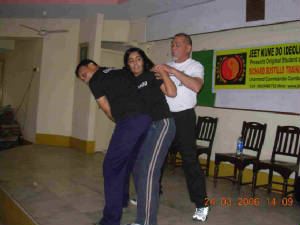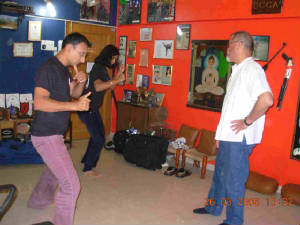 Prof. Dr. Rao completes three decades of his Martial Arts journey in 2004. He is a Martial artist first, despite having three Doctorates, two in Medicine & one in Military Science.
Prof. Dr. Rao has spent the last decade of his life training soldiers & Police personnel in Close Quarters & Unarmed Combat. He has trained 15,000 personnel from the forces without any monetary gains as a 'Service to the Nation'. His work has been highly commended by the top brass of the countries forces & Police.
Deeply inspired by the legendary Lees movie 'Enter the Dragon' at age twelve Prof. Dr. Rao started his training in Karate. Qualifying Shodan in Shotokan & Kempo Karate, he shifted to Taekwondo and qualified Nidan.
After a few years inspired by the Tao of JKD, he started diversifying into Boxing, Judo Wing Chun Western Wrestling & FMA.Studying JKD extensively, he embraced the principles of Jeet Kune Do and imbibed it into his way.
Along with his buddy Dr. Seema, a Taekwondo Blackbelt, He started training the Police inspired by the then Director General of Police and followed by training the Armed Forces encouraged by the Army Chief.
Certifying in Defensive Tactics and grading 4th Deg Blackbelt in Unarmed Combat, the duo trained about 15,000 personnel from various forces over ten years and eventually received official appreciation from the Indian Army Chief for their research and work in modernization of Close Quarter battle and (unarmed) combat. This is the highest level of appreciation conferred by the forces. They also received the appreciation from the Director General of Police for their work in Counter - Terrorism training.
In 2004 Dr Rao was graded 6th Deg BlackBelt by O Sensei Major Philip Porter (Retd, US Air Force ) and conferred Founder status of the Military combat art of ACCS (Advanced Commando Combat System), born out of Dr, Raos innovations in Unarmed combat and JKD principles.
In 2005, Prof. Dr. Rao graded 7th deg in Unarmed Combat under Prof. G u Ping, 32 gen Shaolin Lohan Gung fu from peoples Republic of China & a Special forces Instructor. Simultaneously Seema was graded 5th Deg BB.
The duo authored a book on International Terrorism. Prof.Dr.Rao was awarded the International Combat Hall of fame for outstanding contribution to Military tactical combat. Seema was awarded the International combat Medal of Honour. He appeared before the US Professional Certification Board ASLET and qualified as an International Law Enforcement Trainer (first Indian) in Tactical & Combat training.
In 2004, Prof. Rao completed his Doctorate in Military Science (USA) and his thesis on Tactical simulation was awarded the University award for excellence.
Prof. Rao has Blackbelt / Instructor Grades in Filipino Martial Arts, Shaolin Gung Fu (PRC), Wing Chun, Taekwondo, Shotokan & Kempo Karate.
In 2004 Prof. Dr Rao & Dr. Seema were commended by Sifu Richard Bustillo, one of the worlds foremost authorities of Jeet Kune Do & Bruce Lees original student. "The principles, concepts, philosophies and training program of your art is the basis of Bruce Lis JKD. You are a chosen few with a special skill. I commend you for teaching the arts in your backyard class"
Dr Rao is the World President of the International Tactical Authority Committee and is a respected authority on Unarmed Combat & Close Quarter Battle Skills.
He is the receipient of the US Presidents Gold Award, in recognition of his outstanding commitment, awarded by the Presidents Council of Sports.
Today the raos are full Instructors of Richard Bustillo
Iron Dragon Richard Bustillo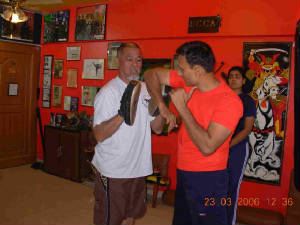 Lessons in Chi Sao from IRON DRAGON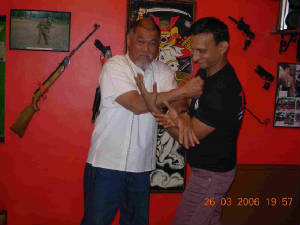 Dr Raos JKD journey began with gaining expertise in various ranges - He has trained extensively in Boxing (Madhu Naik, National Champion & renowned Coach of 1970s), Karate (JKA India Shotokan - 1973), Taekwondo (Jugnu Nanda) , Judo, Wrestling, Wing Chun & FMA (from Martial Art Colleagues Like Arif Shaikh & others).
With extensive training in Unarmed Combat, Dr Rao experimented with various combatives from various ranges of Kicking, punching, Knee-Elbow range, Grappling & Groundwork ranges.
Dr. Rao trained as a private student for some years under Prof. Dr. Hohlle. Germany. Prof. Hohlle has trained with many original students. Dr Rao has cross trained with many eminent teachers and instructors. Dr Rao certified as a Full Instructor in Jeet Kune Do in 2004.
Dr Seema Rao has also trained in various ranges over her 20 year journey. She has been primarily Prof. Dr Raos student. She has trained extensively in Boxing under Vikram Paudwal, national champion & renowned coach. She also trained in American collegiate wrestling under Bob Becker, a US University champion. She taught taekwondo for a couple of years. She has extensive training & teaching experience in Unarmed Combat to the Indian forces & Police since 1995. In 2005, the World Jeet Kune Do Federaton USA, awarded Full Instructorship to Dr. Seema Rao.
Together the Raos have taken the JKD Ideology & principles to personnel from Indian Forces & Police via their various courses on Unarmed Combat & Close Quarter Battle for Counter Terrorism Operations. They worked for ten years, propogating these JKD ideology without monetary compensation and trained 15,000 soldiers.
Prof. Dr Rao & Dr Seema Rao derive the greatest JKD inspiration from their Teacher, Sifu Richard Bustillo, IMB Academy USA who is the chief guiding factor in Dr Raos JKD journey. The Dr. Rao couple owe their deep understanding of JKD in technique & philosophy to Sifu Bustillo.
Sifu Richard Bustillo was one of Bruce Lees foremost & original students. After Bruce Lees death, along with Dan Inosanto, he started the Filipino Kali Academy, the first Academy in the world to teach JKD . The IMB Academy resulted from shiting & expansion of the Filipino Kali Academy.
Besides authorizing Dr. Rao to teach Jeet Kune Do in India & Asia, Sifu Richard Bustillo is a friend, philosopher & guide in Dr Raos life & martial arts journey.
For details, You may please click on the Links below.
Also, It is to be noted that in JKD, the Path is more important than Certification or destination. Application is more important than documentation. Practice of principle is more important than doctrine. Authority in physical arts is never based on documentation and certification but on Prowess & Mastery in Combat, both inside the Fighting Ring and outside in the Arena of Life.
Each mans Journey in the Martial arts is based on his virtues and inadequacies, his experiences and shortcomings. His Openness of mind to absorb the useful and reject the limitations. The way has to be unique for each individual and each journey. The principles used to discover oneself and his journey is called Jeet Kune Do. We only help you to find your path, and hopefully find yourself.
You may call it Jeet Kune Do. You may not. The difference rests in the boundaries you draw yourself.
Walk On!