OPINIONS & VIEWS
Sifu Richard Bustillo, Respected JKD Authority, LA, USA- On our Backyard Class
'Dr. Rao, I understand what you do and I commend you for teaching martial arts in your backyard and defensive tactics training to the armed forces. You and Seema have attained mastery of an art and it is revealed in your and her every action. You are a chosen few who have a special skill. Many of the best came from teaching in the backyard.'
Industrialist Diwan Rahul Nanda,Chairman Topsgrup India,Private Student of Dr Rao
'Dr Rao, You are the best! JKD is the best!! You dont know what you mean to your disciples... You are a great guy...I wish God had made more guys like you...the BEST IN THE WORLD.
After my father, it is you who has given me a new lease of Life. You are my Lee, my ultimate Guru - the only man who has made a difference in my Life! Thanks for believing in me. Love you tons! '
Sachin Gaitonde, Marine Engineer, Canada, Private student of Dr. Rao
'Sir, You are the only person in my life who taught me JKD along with the way to live life with values...I am standing today based on the values I have leant from you...No one i repeat no one can even come close to you...I have gone thru hell in life in the past 5 yrs…the only reason i am still fighting is becos of my JKD. I am waiting to return back to India, so that I can train with you & learn more from u!'
Dr. Komal SV, Physician, Backyard Class student
'I am very lucky to have a Teacher like u to guide me on my journey in Life as well as in the Martial arts. JKD has made me aware of my life's precious moments and has taught me to live more fully. Thank u teacher for helping me to find my JKD.'
Dr. Sheetal Maniar, Physiotherapist, Backyard Class student
'Learning JKD has made me walk the effective Way in Life, and it has given me everything I had ever desired. The principles of Simplicity, Directness, Effectivity & Open mindedness have made a huge difference in my Life. I never knew fighting could change my perspectives about Life & make me a happier individual!
Nikkitin Dheer, Actor
'I just wanted to thank you for showing me my way, my JKD. JKD has made me more confident and more relaxed than ever. Thanks Sir, for accepting me as a student, Love you Sir! Thanks to you I have become so much better at the work place. JKD has truly been amazing for me and I being greedy !!, am Hoping to keep learning more from you.Sir, You are my JKD!
Vishal Sinha, Taekwondo Black Belt Instructor
I have put in about 16 years of training in Martial arts. I am truly blessed to get a great teacher -Dr. Deepak Rao who showed me the JKD way! He is the one who helped me in transforming from a sports martial artist to a True Martial artist
Abhay Deol, Film Actor
'Dr. Rao has a very pleasant charming personality & it is very inspirational to see him perform the Martial arts! His gentle assertive nature makes you take a serious approach & achieve.
I have not seen this form of Martial Art being taught anywhere else in the India. It is very exciting to have taken up JKD & my mind is filled with great ambitions about mastering this art of fighting.
Angad (Doctoral Student, Psychology & Miss Tara (Post graduate Student, Psychology)
'Thank You Sir, You are the greatest Teacher we have got, to work on our bodies & our minds !
Ritesh, Creative Artist
When I came face to face with myself & I didnt like what I saw. I was broken, disillusioned & lost. But with Prof. Rao 's JKD Ideology class, I discovered a brand new life ahead of me & so my journey with Jeet Kune Do began, to work with the system & yet not be confied to it.
JKD has brought the spring back into my step, my mind works with less effort & is more efficeient. Spiritually, JKD has given me the greatest gift I could ask for, 'To be here & now' & to face life on its terms. JKD helps me to use the energy of the surroundings &not obstruct the flow of energy.
Seen below are Industrialist Diwan Rahul Nanda, Model Raman Lamba, Movie Star Abhay Deol, Counter Terrorism Consultant Dr Seema, 12 year old Tina & Film Actor Nikitin living JKD!
The JKD Ideology is a program developed by the Unarmed Commando Combat Academy to help each individual find his Way in Combat, both inside and outside the ring!
For Our Training Program, Click below:
The JKD Ideology Brotherhood
JKDI - INDIA
PART OF THE MUMBAI JKDI FAMILY

Dr Sheetal (Physiotherapist)

Prameet (Corporate)

Dr Seema (Consultant Counter Terrorism)

Prof. Rao (Chief Instructor)

Sachin (Marine Engineer)

Rahul Nanda (Industrialist)

Nikitin (Movie Actor)

Shona (Movie Director)

Raman (Renowned Model)

Abhay Deol (Film Star)

Raashi (Junior)

Ruhi (Junior)

Tara (Psychology Post graduate Student)

Angad (Psychology Doctoral Student)

Now JKDI is 300 Students Strong!
CELEBRATING JKD WITH IRON DRAGON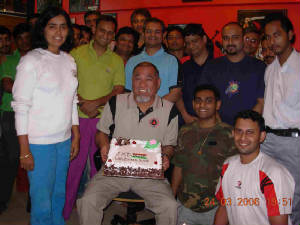 CERTIFIED STUDENTS IN JEET KUNE DO INDIA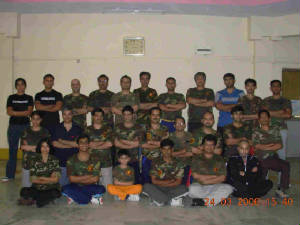 Mumbai Centers in
Opera House (South Mumbai), Andheri (W) & Kandivilli (E)
We also welcome
Students outside Mumbai & Overseas Students
We conduct
Workshops & seminars for Martial Art Schools
We offer
Flexible Timings & Weekend Training Options
Enrollment Information Below (See Site Footer
Or Call Dr. Komal 98204 96752 or 99690 22229 Mumbai
Women who are inclined to enroll for a Self Defense Program We highly recommend this short capsule. Click on below Link
Defense Against Rape & Eveteasing
Overseas OR Outstation students can train in JKDI at Mumbai in intensive course modules of short durations
Overseas students train in JKD
ONE LIFE. ONE DOCTRINE. ONE DISCIPLINE.
click for NEW OFFICIAL WEBSITE OF JKD INDIA
For Outstation Instructor Programs, Outstation Students & Affiliation InstructorPrograms, Call 9820496752 / 9969022229
A Journey of a thousand miles begins with a single step ... - Confucius
Begin your Journey today!
Enrollment Information:
Group sessions in Backyard Class

One on One Private Coaching

Workshops & Camps

We offer Action Choreography
CONTACT JKD INDIA MUMBAI : Dr. Komal
9820496752 or 9969022229
FLEXIBLE TIMINGS & WEEKEND OPTIONS CENTERS
HQ - ANDHERI (W)
CHARNI ROAD
KANDIVALI (E)
THANE (Ghodbunder Road)
E mail JKD INDIA at:
Special features of JKD training at UCCA
# JKD Ideology Training is imparted at mutually convenient timings and locations by prior appointment.
# Entry is by careful scrutiny & selection to exclude low socio economic, uneducated, anti social elements & those with criminal records.
# One to two hour sessions are planned, depending on the current level of expertise. Training 6 am to 8 pm, Weekdays as well as Weekends batches.
# Total Course duration is 55 hours, which can be completed at your own pace & leisure.
# For Enrollment, Give us a call, schedule an appointment & meet with us, so as to understand our offered modules & to let us understand ur needs.
# Training includes:
1. Technical Combat Training
2. Equipment Training.
3. Sparring (Fighting) Full contact (Seniors)
4. Weapons Training.
5. Mental Training to optimize utilization of Intellectual facilities.
6. Cultivation of Philosophical attitudes.
7. A No Nonsense & Logical approach to Lifes problem solving
8. Spirituality via Zen, Taoism & Buddhism
9. Meditation, Positive Visualization & Hypnotic Suggestions for Controlling Fear Response.
10. Diet Principles to gain & lose weight,
11. Nutrition Study to improve Performance
12. Physical Fitness Training .
13. Weight Training for Body Shaping.
14. Cardio Training for Stamina development.
15. Study of Human Body Anatomy & Physiology.
16. Workbooks & Home Study Projects.
17. Media Learning via Audio-Video Tapes & DVDs / CDs
18. Thesis Compilations
19. Pressure Points & Vital Target Study
20. Group Discussions, Leadership Qualities.
21. Study of Applicable Civil Laws & Police Procedures.
22. Counselling & Psychotherapy for Self Esteem & Positive Self Image.
23. Applications of Jeet Kune Do to Anything & Everything
24. Street Combat
25. Many Newer Subjects are added time to time.
We are affiliated to:
'UCCA'
(for Websites click on Links below)
Unarmed Commando Combat Academy Civil Chapter
'MUEN MUNSHI'
ONE THOUGHT. ONE ACTION. NO MIND
(Where every thought is followed by its appropiate action, without the doubting mind)
Knowing is not enough, We must apply.
Willing is not enough, We must do.
- Lee
Click Below for Kickboxing Mumbai